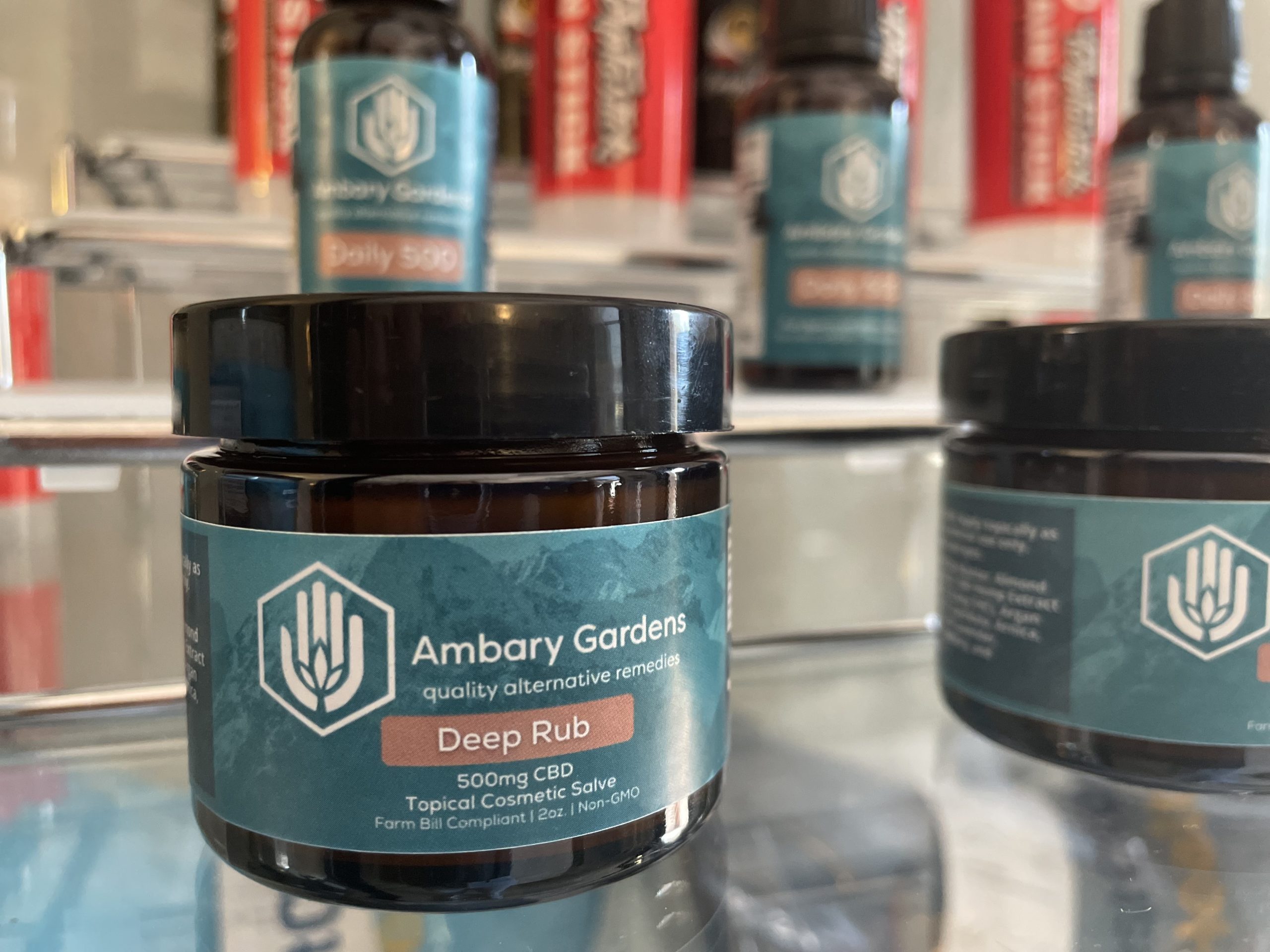 What is Full Spectrum

CBD

and Why is it Better?

Our hemp extracts are rich in many cannabinoids, beyond cannabidiol (CBD), and contain a host of terpenes as well. Cannabinoids present in our extracts include, but are not limited to, testable amounts of CBD, CBG, and CBC. Present terpenes in our extracts include but are not limited to, testable amounts of alpha-Pinene, beta-Myrcene, beta-Pinene, d-Limonene, Linalool, beta-Caryophyllene, and alpha-Humulene. Each of these cannabinoids and terpenes enhances the overall therapeutic effect of CBD and this is why they are very important to the quality of our products. The presence of these accompanying cannabinoids and terpenes, in addition to CBD, is referred to as "Full Spectrum."
"Deep Rub"
Our Deep Rub is our deepest penetrating, most concentrated

CBD

infused shea butter salve providing soothing relief for sore joints. With twice the

CBD

content as our Muscle Recovery salve, this is a favorite for people suffering from arthritis and joint pain. Combining penetrating potential with the cooling ability of essential oils; this product should be rubbed on, and worked in, to help relieve inflammation and soreness of joints. If you're experiencing inflammation or joint pain, we recommend Deep Rub!
Ingredients

Shea Butter, Almond Oil, Coconut Oil,

CBD

Hemp Extract (250mg

CBD

per jar), Argan Oil, Jojoba Oil, Calendula, Arnica, Essential Oils of Lavender, Camphor, Rosemary, and Eucalyptus
Topical

CBD

(often called salve) is known for its anti-inflammatory potential and activates when it's rubbed into your skin. By combining high-quality

CBD

oils with other beneficial ingredients we are able to enhance the effectiveness of our topical products. Combining

CBD

oil with Argan and Jojoba Oil increases it's ability to absorb into and moisturize your skin. Then we boost the anti-inflammatory benefits of

CBD

with Calendula and Arnica.
 Ambary's Deep Rub is formulated for maximum penetrating effect and key essential oils help boost your relief.
Camphor provides the main the penetrating effect and is activated when you massage it into the skin for a moment, rather than just rubbing it on like a lotion. Massaging it in helps to open up your pores so you get better results. Camphor promotes circulation, helping to penetrate deeper for pain that isn't close to the surface.
Eucalyptus is anti-inflammatory and antibacterial with a stimulating effect.
Lavender is an anti-inflammatory as well and soothes your skin.
Rosemary, in addition to anti-inflammatory effects, aides in skin repair, provides analgesic (pain relief) effects. Because rosemary is also an anti-bacterial, anti-fungal, anti-septic, and anti-astringent, it is great for helping your skin stay healthy from outside factors.
Our hemp is organically grown by a dedicated team of experts who work hard from sun-up to sun-down to ensure that our hemp plants are thriving and happy. Each plant is tended to and cared for daily, by hand. We use only organic inputs and maintain each plant throughout its entire life. They are also fed using homemade organic composted brewed tea. We use no chemical pesticides or harsh chemicals at any point in our growing process. We maintain a constant compliance with the state and federal guidelines of less than 0.3%THC. With Ambary Gardens finished products, you know that the hemp plants that are used were planted, grown, and harvested at our facility, with heart.